Design and Development
The Concept 5 is an aerobatic aircraft designed for both high-end freestyle maneuvers and compulsory competition flying at the Unlimited level. It began in Aircraft Factory 5 as a fairly straight forward Lycoming 540 powered monoplane for FS5, but after I switched to FSDS as a design tool, it quickly evolved to a family of aerobatic aircraft with different configurations and different powerplants. The first modification was a V-tailed model which, while perfectly feasible, is very confusing to try and look at and judge maneuvers from the ground. The easiest aerobatic planes for judges in the box to rank, are the ones with the straightest lines and the most 90° angles. Usually monoplanes. So a V-tail version was nothing more than an experiment, since it looks like it's tumbling, even when it's not.

Then came the Turbo-Coyote, with a Pratt & Whitney PT-6A turboprop up front. All the power you ever need is useless if you have to wait for a turbine to spool up while you're low to the ground, which is actually what led to the demise of the first turboprop unlimited aerobatic plane: The Oracle Turbo Raven. Fortunately, the pilot, Wayne Handley, made a full recovery and survived to fly on. But in the minds of many, the idea of a turbine unlimited aerobatic plane sort of died right there with the Turbo Raven.

Then along came a company called Orenda... and a 495cu. in. V-8 aviation engine that had the power of a turbine but the response of a reciprocating piston engine that runs on 100LL that can be retrofitted onto any production aircraft that used the PT-6A. And so the ARX-5 model X was born. Orenda has since been bought out by Trace Engines of Midland, Tx. But the Model X download for FSX still has a few Orenda logo's on them, for old time's sake.

Currently the Coyote -- specifically the Type X, is every idea for an aerobatic plane that I have ever had. If it were 100% perfect, it would be a biplane, ...but such is life. Not a plane for everyone, the Coyote-X is oriented around freestyle flying, but should prove docile enough for most pilots to fly compulsory maneuvers as well. It's not perfect, it's just perfect for some. If you're used to heavy iron flying, you will probably end up upside down beside the runway the first time you try to fly this. And if you're new to aerobatics, this plane will probably get you into a lot of bad habits (no, not every aerobatic plane can climb straight up on takeoff!) So honestly, it's not a good beginner aerobatic plane at all, it's no place to start! Instead it's the wild ending of a long search for the ultimate aerobatic machine.

I live to fly aerobatics, and no plane I've ever built, or flown in my years of flying them in FS had that "custom fit" feel to them. I've made many real world aerobatic planes over the years by myself, and sometimes with my good friend Mikko Maliniemi, and it's very difficult to make an aerobatic plane that is lazy enough for the average simmer, but still have the ability to get crazy with gyroscopic tumbles, and so every aerobatic plane I've ever made for FS was done with that in mind -- trying to appeal to a wider audience. However, being a concept plane, I designed this plane with all the things that I personally wanted to have in an aerobatic dream machine. To all those who share my wants, ...your plane is here!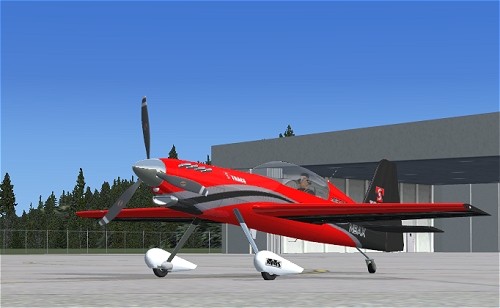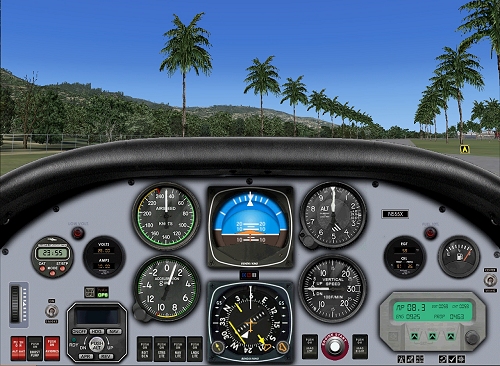 This plane, as with all of the first six concepts, was mostly created at our fancy mountaintop Malibu Facility, and so much tweaking was done to this plane (and a few others along the way) that we eventually wound up starting our own separate "Hot Rod Factory" down on the beach, called Malibu Motor Sports...MMS for short.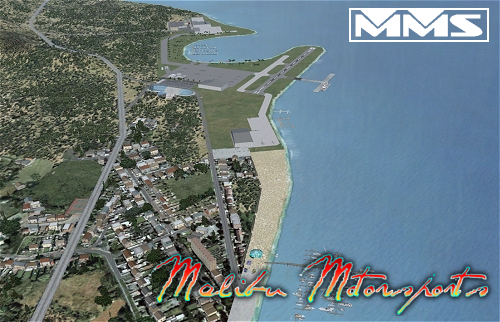 Click the image to visit Malibu!
Many of our planes (and various other vehicles) since then have had the MMS logo but this plane is actually where it started.
Models & Downloads
Model A
The model A is a standard Lycoming-540 powered single-seat aerobatic aerobatic monoplane - the forerunner to all versions. It is the basic Concept 5. A release sometime in the distant future is always possible if we get bored enough, but we're simply not planning on it.

Model V
The model V is a modified version of the Model A, the only difference is a V-tail. The Coyote V is the least popular of the line, as well as the least well performing. It's prototype-only, and will probably never see public release on any major website, but it does indeed exist and may eventually be available on this website only.
Model R
The Coyote R is a modified version of the Model X, specially made for Austin "Firestorm" Gardner for his 2012-14 Airshow season. It is essentially a a modded version of the ARX-5X, but includes a new tail, swept struts, tinted canopy glass, smoked chrome pipes, as well as all smoked-chrome on all the metal hardware
Model T
The Coyote T is a modified airframe (gear struts, wings, tail) built around the standard fuselage with a modified nose for a Pratt & Whitney PT6 turboprop engine. The "Turbo Coyote" is the fastest of the fleet by far, and is the forerunner to the Model X.
Model X
The Model X is based off of, and built around, the 600hp Trace/Orenda V-8 reciprocating aviation engine mentioned above. This explains why the nose of the plane has obvious similarities to typical turboprop airplanes. While it is only the second fastest of the family, the Coyote X is the best performing aircraft when it comes to aerobatics, due to it's high horsepower and quick throttle response - this is the definitive version of this concept, available for FS2002 through FSX!


ARX-5X Version 2.1
For FSX 43.1MB


Version 2.0 was removed from the site on Dec 01 2012. Version 2.1 is now the current standard version.
2012 Expansion Pack For FSX- 8.7MB (Skins only)


Requires Version 2.1 above.

Garmin Coyote X - N554X
Custom "Ripped" Garmin Scheme 2014 (Skins only)

Requires Version 2.1 above.

Sauber Coyote X - HB-NEC
Custom "Ripped" Sauber F1 Scheme 2014 (Skins only)

Requires Version 2.1 above.

GB Airshows Coyote X - HB-NEC
Custom "Ripped" Blue Scheme of Greg Busby (Skins only)

Requires Version 2.1 above.

The Last Coyote X - N599X
Custom "Ripped" Malibu Marauder Scheme of the webmaster (Skins only)

Requires Version 2.1 above.


ARX-5T Turbo Coyote
For FSX 8.47MB



ARX-5R Firestorm Refit
For FSX 8.81MB

Movies
Version 1 - 2003
Concept V Movie
3.8Mb

The pre-release teaser for the Model X in FS2002.

Duration 2:10
Version 2 - 2009


Expansion Pack 2012

Specifications
| | |
| --- | --- |
| TYPE: ARX-5X | |
| LENGTH: 26.7ft | WINGSPAN: 24.86ft. |
| POWERPLANT: 495.ci Trace OE-600 V-8 600bhp @ 4400RPM (52"MP) | TOP SPEED: 240kts |
| Empty Weight: 1500lbs. Max Gross: 2250lbs. | Cruise Speed: 180kts |
| PRODUCTION: 41 | |
Individual Aircraft Listing

Type X aircraft

In it's original colors from 2003.


New scheme for FSX!

N5AX

First flight 4-28-02
Released with both Versions 1 and 2
Prototype aircraft in factory scheme
In Version 2 this aircraft is represented in two separate liveries, one new for FSX, and the other being the original from 2003.
N501X

First flight 6-15-04
Included in the Version 2 package
One of two flagships of our "hot rod factory" at Malibu MotorSports, (the other being the Roadrunner N6JT)
N502X

First flight 10-22-05
Included in the Version 2 package
Originally planned to be a Texaco Oil scheme, this was changed in lieu of FSX's ability to support "day-glo" colors via specular mapping - the ability to change colors when in sunlight.
This is the first attempt at a "day-glo" scheme on any of our concepts. (purple/cyan)
N503X

First flight 12-1-06
Included in the Version 2 package
Tribute scheme to Mike Goulian's red Cap-232
Semi Day-glo (blue/purple)
N504X

First flight 5-9-07
Included in the Version 2 package
N505X

First flight 5-16-07
Included in the Version 2 package
Tribute scheme to the Giles G-200 Wayne Handley flew in the mid-1990's
Day-glo (purple/pink)
N506X

First flight 5-17-07
Included in the Version 2 package
N507X

First flight 5-18-07
Included in the Version 2 package
N508X

First flight 5-20-07
Included in the Version 2 package
Painted and piloted by Brady Duros
Only aircraft configured without wheelpants.
N509X

First flight 6-17-09
Included in the Version 2 package
Day-glo (purple/green)
N510X

First flight 6-21-09
Included in the Version 2 package
Mild day-glo (red/orange)
N425IT

First flight 2-18-09
Included in the Version 2 package
Tribute scheme to Mike Goulian's Castrol Extra 300 - N821MG
Painted and piloted by Mike "6valdi" Vivaldi
N551MD

First flight 5-10-07
Included in the Version 2 package
Painted and piloted by Josh "Mongo" Nyhus
Semi day-glo (green/yellow)
N179DW

First flight 5-15-07
Included in the Version 2 package
Painted and piloted by Brady "Rusty McAmerican" Duros
Sister ship to N779DW
N519CH

First flight 11-4-06
Included in the Version 2 package
Painted and piloted by Josh "I'm drinkin' stuff" Nyhus
N495CI

First flight 2-19-09
Included in the Version 2 package
Trace Engines flagship
N179RA

First flight 11-14-06
Included in the Version 2 package
Painted and piloted by comrade Brady Duros

Prepped and ready for your own scheme!

N555X

First flight 2-16-09
Included in the Version 2 package
This is the template aircraft offered as a paint kit (layered Photoshop PSD files included)
---
Other Models


Model A

First Flight 3-3-02
unreleased prototype

Model V

First Flight 4-13-02
unreleased Abandoned prototype

Model R

First Flight 7-9-13
Released 11-20-15
Custom model for Austin Gardner's Firestorm Aerobatics
Model T airframe with Model X engine.
New wing; slightly faster than the Model X.
Fastest piston engine version of the Concept 5

Model T

First Flight 4-26-02
Released 11-12-15
Absolute fastest version of the Concept 5
See Also
Flight Center II, Malibu, Ca. - Scenery where the ARX-5 was developed from FS2002 through FSX.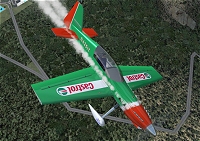 Howlin' Mad Vivaldi's Castrol bird.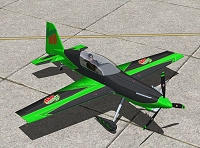 More fruit drink sponsors by Mongo. What else?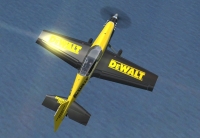 The Dewalt Tools is an inside joke.
The excellent scheme, is all Brady!