Design and development
Good things always seem to happen around here with this group whenever the number 3 is somewhere in the title. The Concept III is yet another recreational experiment, it has a delta wing planform, twin inward-angled vertical stabilizers with all-moving rudders, and an all-moving horizontal stabilizer-elevator (stabilator) and was the original company flagship for Aeroworks. However between 1997 and 1999 this nameless plane was just a side project I saved as experimental01 in Aircraft Factory 5. At the time I was more focused on real world aviation and getting my pilots license and using FS for various aerobatic designs that would eventually end up being the Coyote. The Experimental01 went through many changes until late 1999 when it finally took the name and shape you see now.
Like the ARX-2, it has a mid-mounted engine located right at the center of gravity (CG) but due to the unique wing planform, it doesn't require any sort of drivetrain mechanism, and once again, of course it's push prop.
When it was originally released, the ARX-3 became the most downloaded of all the Aeroworks files at the time, it had more downloads than the Extra 300 repaints, the Christen Eagles, all sceneries, everything....combined! It was the #1 hottest daily file overall on Flightsim.com for a while. It was the first Aeroworks release to break 2000 downloads (alot at the time) and it did it in about a week. It would remain the most popular ARX release until the TR-3A surpassed it the next year.

So popular was this plane, that a new Model R was created, strictly based on feedback and emails from users who had many great ideas and requests. The Raptor-R was a single seat racer, painted black and using spoilers, a bit better visual model and an (unfortunately non-functional) Nitrous injection system.
The Raptor-A was also featured in the Battle of the Airlines 2001 race, and a special FS98 version was created just for BOTA players using that sim at the time. So well recieved was this plane, that the BOTA organization relied heavily on Aeroworks for it's 2003 race. But that's another story...
As of the writing of this page, the ARX-3A is our fourth most downloaded release on Flightsim.com, ...and it's eleven years old!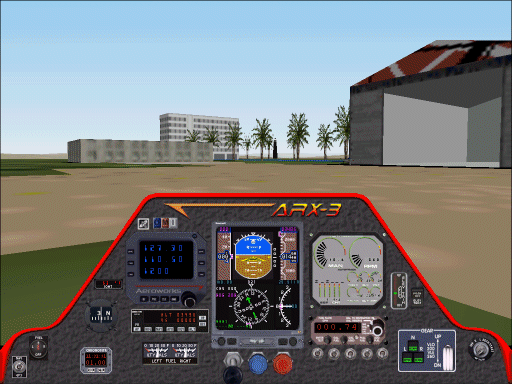 Back when Malibu was just a sandy outpost with a dirt apron.
Versions & Downloads
The Concept III is available in two models, for FS2000. But, as you might have guessed by now,...you can count on an FSX appearance. And for all the users of the Acceleration expansion pack, yes - this time the nitrous injection system will most definitely function!
Specifications
| | |
| --- | --- |
| TYPE: ARX-3A | |
| LENGTH: 28ft | WINGSPAN: 27ft |
| POWERPLANT: Lycoming 540 | Empty Weight: 2000lbs. |
| TOP SPEED: 380kts | Cruise Speed: 310kts |
| PRODUCTION: prototype only | |



Individual Aircraft Listing

Version 1 in FS2000

N3JT

First Flight (final design) 11-2-99
Release Date: 12-16-00
Aeroworks flagship 1999-2002
Featured in Battle of the Airlines' 2001 Race
Most downloaded civilian concept on this site (Surpassed by ARX-5 version 2 in 2009)
Third most popular concept overall

N3RX

First Flight 1-12-01
Release Date: 3-23-01
Only example of Model R
First release we ever did based strictly on user feedback.
See Also
Flight Center I, Rio Palm Isle - Scenery where the ARX-3 was developed during FS98.
Flight Center II, Malibu, Ca. - Scenery where the ARX-3 was developed in FS2000.
ARX-4 Scorpion - Rotary-wing offshoot of the ARX-3.