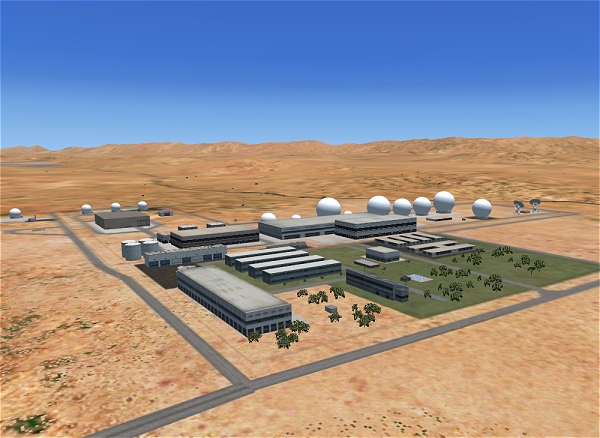 [WISEASS COMMENT REMOVED BY NSA]
We're on your website. Editing your html.
All your concepts are belong to us.





Project Credits
Jason L. Terry

Beta Testers
The guy at the place


JDF Pine Gap for FSX -- 1.25mb
Pine Gap is a project I've wanted to do for a long time. Normally I prefer to make fictional sceneries where I have more freedom and creative license. But real-world locations like this, Bonneville, and White Sands are of interest to me. Microsoft could have easily done this - I wound up using mostly default macros! - but for some reason they chose not too. Perhaps they didn't want to upset the CIA/NSA etc. but they made Groom Lake for crying out loud...what's the difference!? Anyway, at the very least Microsoft did add in the Prohibited Airspace around Pine Gap, so I decided it wouldn't be much trouble for me to add the rest of it. Also it livens up the area around Austin's Australis OC, and I thought this would be a cool addition to that scenery. Originally Pine Gap was going to be included with Australis base, but since Australis is fictional and Pine Gap is real world, I decided to make Pine Gap it's own standalone release.

Officially, Pine Gap is a satellite tracking station operated by the United States intelligence community. It's official name is Joint Defense Facility Pine Gap.

The location is strategically significant because it controls United States spy satellites as they pass over the one third of the globe which includes China, the Asian parts of Russia and the Middle East. Central Australia was chosen because it was too remote for spy ships passing in international waters to intercept the signal. The facility has been described as the ground control and processing station for geosynchronous satellites engaged in signals intelligence collection.

JDF Pine Gap is ran by the CIA, NSA, and NRO and is a key location in the global ECHELON surveillance network.
No national security secrets were leaked in the creation of this scenery.


JDF Pine Gap for FSX -- 1.25mb